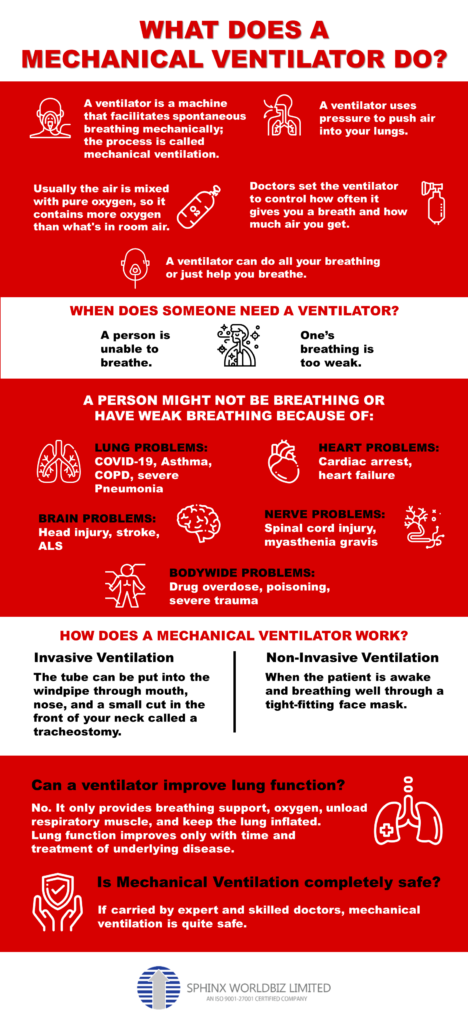 The COVID-19 pandemic has provoked the exponential demand for ventilators across the world. But, why do we need ventilators so desperately? Are they the only solution to fight against deadly coronavirus? According to Brian Oliver, a respiratory disease researcher and an Associate Professor at the University of Technology, Sydney (UTS) the ventilator can decide life and death for severe COVID-19 patients. Like Pneumonia, in COVID-19 lungs are filled with fluid and pus which makes it difficult to breathe. A ventilator becomes the only way to make the respiration process easier by moving oxygen into such parts of the lungs that aren't badly damaged by the virus.
In the early 20th century, polio outbreaks wreaked havoc in various parts of the world. Like COVID-19, Polio caused by a virus, damaging nerves resulting in paralysis, muscle rigidity and breathing difficulty. According to Arthur Slutsky, a mechanical ventilation expert and clinician at St. Michael's Hospital in Toronto, "Mortality from paralytic polio was about 80%, once mechanical ventilation was started, it went down to 40% overnight." Such miraculous ventilator case studies have inspired healthcare workers to equip life-saving features of ventilators for the fight against fatal COVID-19 until there is a cure.
It is safe to say that ventilators are in great demand as they are a requisite while saving COVID-19 affected lives. Keeping the urgency in mind, Sphinx Worldbiz Limited has collaborated with TimeTooth Technologies, both are premier engineering and technology solutions providers, have launched an initiative to develop low-cost emergency ventilators. The designs for which will be easily accessible on open source where any manufacturer can access the design and build them in bulk. The design will be in compliance with the International standards for medical-grade equipment. The low-cost and rugged design will enable the ventilators to reach to the grassroot level. TimeTooth and Sphinx Worldbiz has raised a fundraiser seeking a sum of 50,000 USD to achieve the endeavor. Your participation will be appreciated.
If you wish to make donations and save lives, please visit the following links:
For international contributors:
https://www.gofundme.com/f/covid19-india-ventilator-development-project
For contributors in India:
https://www.ketto.org/fundraiser/Covid19-indian-MedicalGrade-Rugged-LowCost-ventilator