With a myriad of new developments and applications, 3D printing or rapid prototyping services has shaped the entire industry, throughout 2020. Over the years, rapid prototyping has revolutionized the way goods used to manufacture. Thanks to this engineering method, today, engineers enjoy lucrative benefits like design freedom, flexibility, distributed manufacturing, time-to-market, mass customization, and much more.
In this blog, we will dive into 3 major developments to expect from 3D Printing 2021:
Use Cases for 3D Printing is Soaring
Here are some facts to support this statement. Note that the information is excerpted from a report conducted by Jabil.
A whopping 94% of users who belong to the electronic sector expect their 3D printing use to significantly increase.
More than half of the top leadership views 3D printing as strategic.
66% of engineers believe that 3D printing is faster than any conventional manufacturing method.
50% say that outsourcing will be a major part of their future 3D printing plan.
Research and development have become the most common 3D printing use case.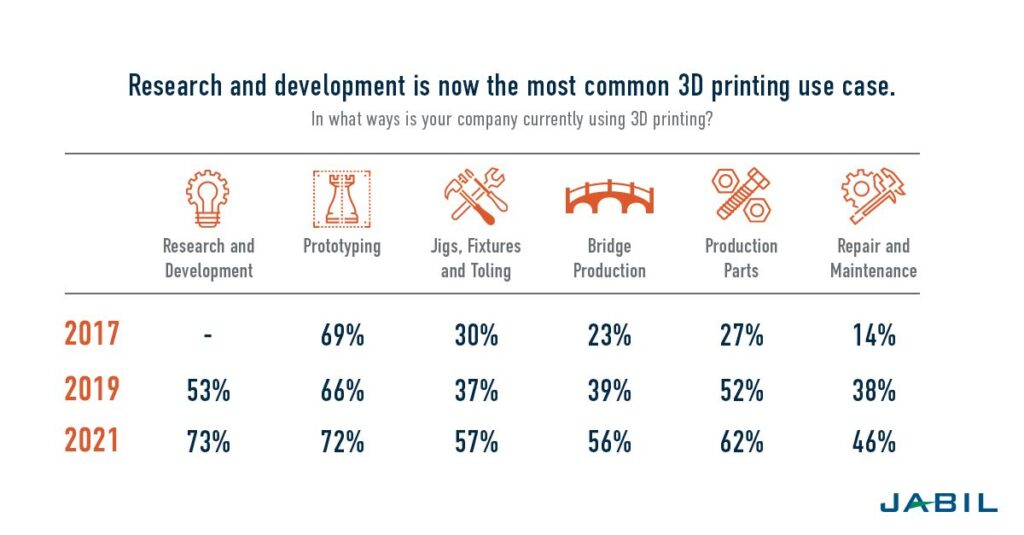 Companies are more eager to work with 3D Printing
In just two years, the technology has matured to such an extent that brands are excited to reap the lucrative benefits of additive manufacturing than ever. Below is a graph extracted from Jabil's report of the top 3 benefits which coaxed companies to adopt 3D printing on a wider scale.
We could also say that the recent surge of additive manufacturing is because of the worldwide outburst of Coronavirus. 3D printing services became a helping hand to crucial segments like healthcare to prepare all-too-scarce medical personal protective equipment (PPE) like testing kits, respirators, face shields, and diagnostic equipment.
Businesses aim to increase their overall 3D print capabilities as their expectations to use the engineering service are higher for developing parts and goods. Over 80% of companies expect a radical surge of additive manufacturing use in the next five years.
Demand for accessible 3D Printing material Options is increasing.
In the past two years, the engineering segment has witnessed a drastic increase in 3D printing use and so in its material types. Undoubtedly, plastics/polymers will still win the race but other materials have also come into the light. To make a choice between plastic and metal while working with the additive manufacturing for primary purposes isn't big of a deal. According to a recent study conducted by Jabil, engineers use plastics and metals equally, and even if they were to make a choice between those, plastic was chosen however just by 10%.
Indeed, engineering companies are facing bottlenecks when using materials other than plastic and metal but the coming year will help them overcome those challenges. The desire to use glass in additive manufacturing services will surpass the existing consumption by 20%; ceramics by 14%; and metals by 10%.