Sphinx Worldbiz has acquired project management experience across different types of engineering services and contracts, ranging from consultancy services to turnkey projects. Ambit of projects executed cover multi-dimensional aspects of Engineering Designing, Rapid Prototyping, Reverse Engineering, Fixture Designing, Manufacturing Engineering, Staffing Services, Engineering Solution, Die Designing, Tooling (Mold & Die Design) and Knowledge Based Engineering. The project management services are guided by a proven project management process, which not only leads to expected result but also adds value to client's process in terms of cost & time. Team Sphinx takes the ownership of projects while focusing on the solution and delivering successful result. As a team, it takes pride in delivering projects on time, within budget and in-line with quality standards expected.
The Project Management Process at Sphinx is precisely illustrated in the following diagram: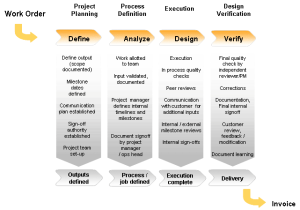 Sphinx Worldbiz prides its access to an impressive range of technical skill and resource within the organisation. The project team leverages on the technical diversity and enhances the feasibility of the project management process.