Organizational Excellence is the fundamental basis of every initiative taken by Sphinx Worldbiz. Meeting customers' expectations, achieving shareholders' delight and ensuring employee performance are the prime objectives. The management team of Sphinx has clear objectives and actionable methods to benchmark, accomplish and maintain leadership in today's highly competitive IT solution and Engineering service markets. The three critical pillars at Sphinx Worldbiz are People Excellence, Operational Excellence and Delivery Excellence. These pillars are based on a ceaseless improvement in technology, people and processes. The company believes in the 'balanced score card approach' to attain, maintain and drive organizational excellence.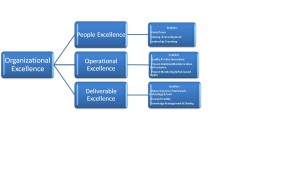 Matured process frameworks, modern technology, research facilities, knowledge management & sharing, continual learning & development, innovations, proven statistical models for driving performance and leadership trainings & grooming help to motivate teams and managers across hierarchies to seamlessly execute projects and deliver optimum solutions.
Excellence across functionalities lays the course for effective project management, change management, resource administration and knowledge sharing. Consequently, adding value to clients ROI, creating a collaborative organization with focus on knowledge sharing and delighting all stakeholders, the conclusive goal for any promising organization.