We at Sphinx, offer end-to-end die design solutions for covering concept design to product realization. We also support client throughout the product life cycle. Our team's expertise in die designing has resulted in long standing relation clients. Our Die Design service enables global clients from industries like automotive, oil & gas, aerospace etc., to outsource their engineering designing to us at high quality and lower cost. Our die-designing service includes Tooling Design & Validation, Die Layout & Simulation, Simulation Studies, Formability Analysis, Process Engineering and Detailing & Documentation. The competent design team undertakes all involved processes from feasibility to production including many kinds of simulation studies, for Global customers.
Committed to provide cost effective solutions and quality service in time, we follow a proven work methodology that is illustrated in the following image. Every project is executed with precise planning, with attention to client's application requirement, market, cost, time etc. The work starts with an effective process planning, wherein the work schedules, manpower, methods, compliances, technology to be used and other involved factors are decided. Planning is followed by the design stage and the best suitable design techniques and tools are used to develop the best press tool design. The further phases of Die Layouts, Simulation, Detailing and Documentation are undertaken as per defined standards. Our practical approach coupled with industry's best practices assist global clients to develop a cost effective designing solution with focus on product and process innovation.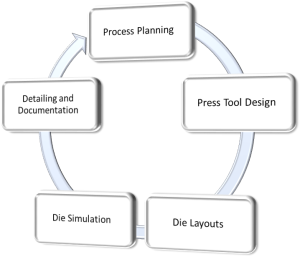 Service Capabilities
Experts in our facility assist clients with all their tooling & die-designing needs from design to production. Our engineers make use of recent software systems such as CATIA, Unigraphics, AutoCad and AutoForm for simulation studies, design and manufacturing optimization. The die designing services offered serve to be cost effective for enhanced product realization and value. Our team of skilled Engineers & Designers utilize the latest technology to provide complete customer satisfaction for all die-designing needs. Sphinx Die-Designing capability includes:
Tooling Design & Validation
Panel Checkers
Draw Dies
Forming Dies
Blanking Dies
Trimming Dies
Compound Dies
Progressive Dies
Transfer Dies
Automotive Stamping Dies.
Lamination Dies
Die Layout & Simulation
Die Layout
Die Planning Sheet
Die Face Generation
Feed Layout
Die Simulation (Auto Form)
Die Face Modification
Die Design (Solid Modeling)
Data for CAM Machining
Simulation Studies
CAD binder development
Forming simulations
Metal formability

Wrinkling analysis
Thickness analysis
Thinning analysis

Die process development
Production simulations
Assembly simulations
Formability Analysis
Blank Development
Draw Analysis
Die Optimizations
Process Engineering
Die Planning
Die Layout
Process Layout
Feed Layout
Sequence of Operations
Detailing & Documentation
Detailed Manufacturing Drawings
Pattern Drawing
Bill of Materials (BOM)
Technical Documentation
PRESS TOOL DESIGN WORKFLOW
Team Sphinx believes that a well-defined workflow is the linchpin of every successful project. Our press tool design workflow starts with the initial study of inputs wherein the given and collected information is well analysed and comprehended. Correct information, modern design techniques, expert manpower and years of experience adds to the success of very press tool design project at Sphinx. Integrating competent people, proven processes and modern technology goes beyond engineering and design and pull together time, budget, marketability and product quality, facilitating client to receive higher ROI.