There is no substitute for an accurate prototype, as it communicates features & quality that are impossible to validate or show via 2D drawings or CAD models. Sphinx Worldbiz Ltd., understands the time & means challenges that product-designers face in their efforts to develop new products. We offer on-demand rapid prototyping services and assist clients in their engineering-design needs. Our rapid prototyping services bring CAD files and design ideas to life in form of real physical models. What so ever are your needs, we can assist you to define and pursue a course of action. Our offerings include:
Breadboard Prototypes
Proof of Principle Prototypes
Mock-ups
Visual Models
Facsimile Prototypes
Alpha Prototypes
Pre-Production Prototypes
Pilot Run Production
The prototypes are ideal for concept modelling, verification, production mock-up and functional testing. Innumerable design variations, with functional plastic models, can be created to develop the most befitting product.
Our rapid prototyping facilitates:
Simulation of Product Performance – Rapid Prototyping helps to simulate product performance without excessive cost and time, unlike the traditional prototyping.
Concept Modelling: Our prototyping service facilitates the freedom of multiple design iterations
Design Verification: The product design is prototyped and verified in all aspects for compliance to design detail and standards, ensuring that the design is flawless before it is approved and taken forward bulk manufacturing of the new product.
Testing: Rapid prototyping plays a prime role in determining the fit, form and functionality of any new product, before tooling.
Fine Feature Detailing: Usage of modern technology backs us to build small and large rapid prototypes with fine feature details.
Production Mock-ups: Precisely accurate and functional rapid prototypes are developed by us to ensure that the product design is correct for investing in production.
Sphinx brings a new level of affordability and versatility for its clients looking forward to professional rapid prototyping.
RP Processes &Technologies:
Additive Manufacturing/ 3D Printing
---
Additive manufacturing is the official industry standard term (ASTM F2792) for all applications of the technology. It is defined as the process of joining materials to make objects from 3D model data, usually layer upon layer, as opposed to subtractive manufacturing methodologies.
1. SLA: Stereolithography Apparatus

which is an additive manufacturing process employs a vat of liquid ultraviolet curable photopolymer "resin" and an ultraviolet laser to build the parts' layer upon layer.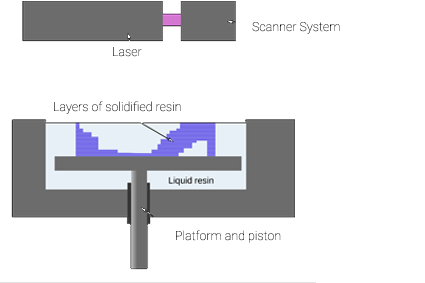 2. SLS: Selective Laser Sintering

SLS uses a high power carbon dioxide laser beam selectively to fuse powdered material (plastic, metal) to build the objects layer by layer, which has a desired 3D shape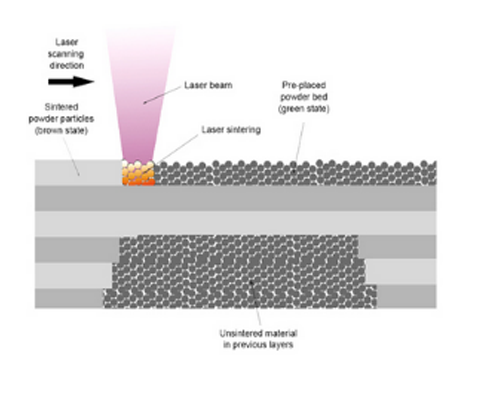 3. PolyJet Process

PolyJet printing is a rapid prototyping process that uses additive manufacturing. The printers have two or more jetting heads (one set for the model and one set for the support material) that spray outlines of the part, layer by layer.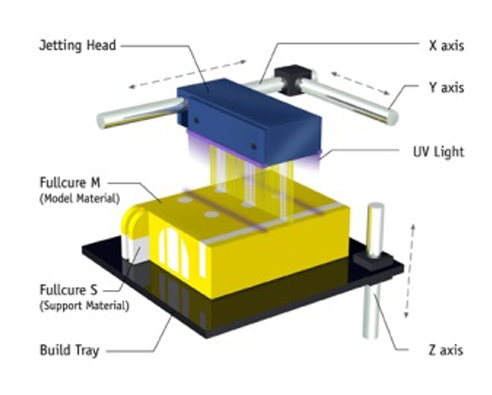 CNC Machining/ SRP: Subtractive Rapid Prototyping
Varieties of Plastic, Metal materials
---
Sphinx's produces the finest, highly accurate parts, fully-functional engineering prototypes. Fast turnaround and high accuracy CNC parts can be achieved with a wide variety of materials. Using various materials during the concept stage of your prototype will allow your design team to closely simulate the final product appearance, yet still give the freedom to make changes.
CNC (computerized numerical control) machining is a Subtractive Rapid Prototyping process in which parts are machined directly from 3D CAD files using various computer-controlled tools and cutters. Our machinists use 3D files to program for the CNC machines to remove material from a stock workpiece. The machined part is then removed and finished/painted according to the project requirements.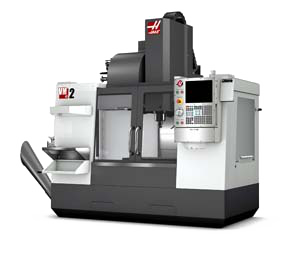 We can produce highly accurate engineering models from production materials such as:
Various types of plastics:
ABS,
Nylon (PA),
Polycarbonate,
Polypropylene,
HDPE,
Acetyl (POM),
Noryl,
PMMA (Acrylic) etc
Various types of Metals:
Aluminium,
Steel,
Stainless Steel,
Brass,
Copper,
Magnesium,
Titanium,
Zamak
Typical accuracy is +/- 0.05 mm
Vacuum Casting/ Silicon Molding & RTV
Varieties of plastic & rubber parts
---
Silicon molds are made by pouring silicon over a master pattern (RP pattern) and cured, the mold can be used for making parts in actual material and which saves the cost of prototypes when required in more numbers. A large amount of time can be saved by using master patterns made out of Rapid prototyping process.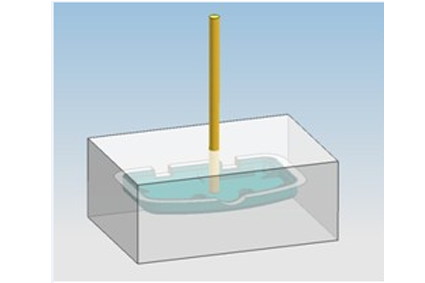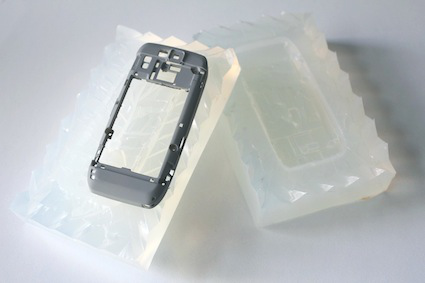 Sheet Metal Prototyping
Laser cutting, sheet metal bending
---
involved in the manufacturing and processing high quality sheet metal components. The products that are involved are all types of sheet metal cuttings and forms made out of flat sheets in sizes ranging from 2500mm x 1250mm and thickness upto 6mm.
With in a month, we are going to add Trumpf CNC Laser 2 Kw Cutting machine along with 3 nos CNC press brakes up to 250 Ton capacity including 6 axis machine for more complex products to provide the higher accuracy. With this facility we shall be able to cut, bend & fabricate the following thickness of material:

Mild Steel         – 15mm
Stainless Steel – 6 mm
Aluminium        – 5mm
The Sheet Metal Processed Parts processed to have the following features which keep us ahead of the competition.
Quality is the key in manufacturing and delivering the desired products.
Timely Delivery of products is something which we always achieve.
Small Batch Runs always determine the competitiveness and the ability to keep jobs to schedules.
We are equipped with the Latest Tooling in sheet metal processing for bending, roller beading, nibbling & multi shearing & multi profile cutting tools to give laser cut like finish to profiles. The machines installed are at least two to three times faster than other company's in the region.
The CNC Bending Cell consists of three Multi Axes CNC Press Brakes having bending length capacity up to 4 meters and 3 meters & 1.25 meters . These are equipped with high precision hardened segmental type tooling.
All this implies to that we can do more complicated jobs faster than a competition. We also have an in house conveyorised Powder coating & dip treatment plant .
The materials that are normally used in the sheet metal processing are:
MS – CRCA, ED, EDD, HR,
Stainless Steel,
Aluminium,
Galvanized Steel
Our objective is to Provide Good Quality Engineering Solutions to customers in quick time for new component developments using the latest generation manufacturing and development techniques like :
Rapid punching which includes High Speed Punching @ 420 to 900 spm.
CNC bending over 3M, 4M & 1.25M lengths
Fabrication and Assembly
Powder Coating thereby helping them 'Reduce Time to Market & cost, improve quality'.