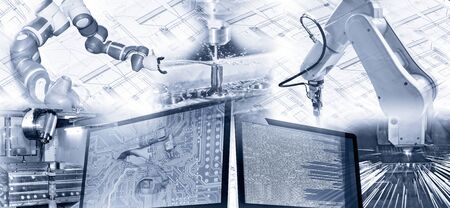 Computer-aided engineering or CAE services refers to the engineering methods of leveraging the advanced features of computers and digital technologies during design analysis and synthesis. CAE techniques help engineers in developing immaculate designs while giving more flexibility to resolve more complex real-life design problems. The technique offers engineers to unveil smart intelligence and automation, however; creative thinking still lies with human designers, as it is currently beyond the reach of design automation. Design automation eliminates the iterative and mundane tasks to free engineers while allowing them to focus on more important design jobs.
Why CAE Services is in High Demand?
Unlike physical prototyping, design engineers can save money and time with the help of refined computer simulation.
This engineering technique helps engineers with performance insights during initial development phases to predict any unforeseen mistake or cost.
It aids engineering teams in risk management while comprehending the performance implications of any project.
CAE services effectively support performance insights and enhance designs through integrated CAE data and process management.
By recognizing and eradication potential problems, CAE reduces warranty exposure.
CAE reduces overall manufacturing costs by enabling earlier problem resolutions.
CAE and Digital Prototyping
Digital prototyping generates a realistic prototype model with the help of computers and lesser human intervention. The process helps engineers by performing the most iterative tasks of the synthesis and analysis in the design procedure. The computer prototype is developed by only analysis and synthesis. The main idea behind digital prototyping was to diminish overall product development cost and time.
Ways digital prototyping is revolutionizing design dynamics
Standard prototyping was way slow and expensive even with the industry-best engineers. The advent of digital prototyping has eliminated the continuous back and forth between drawing board and prototypes hence reducing hefty cost and time-consuming processes.
Computer-aided engineering (CAE) along with Computer-aided design (CAD) has changed the entire product designing process. It's all due to emerging technologies that today cars can be engineered, prototyped, and tested in a virtual world before investing in any physical prototypes. Engineers can get the closest to the finished product than ever before making a physical prototype or getting onto a test track.
Porsche's next-generation Macan is an exemplary example. From energy management and acoustics to aerodynamics, the establishment developed 20 virtual prototypes for various purposes. Their concurrent use has not only helped manufacturing engineers to spot flaws but also in identifying design conflicts between various disciplines during the entire virtual car assembly process.