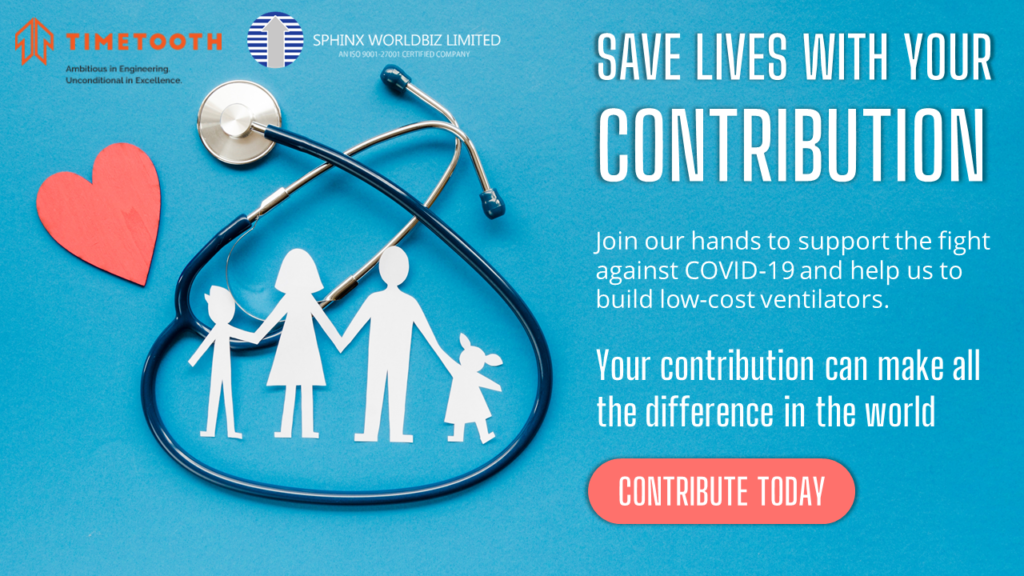 The whole world is coming together to fight COVID-19 pandemic in many ways, from following social distancing, helping the underprivileged, to donating to the healthcare systems and organisations across the world, the efforts are unanimous. However, this is only buying time, it does not fully stop the rising death toll or the people getting affected. Alarmed at the statistics, the global engineering sector has come to rescue the healthcare sector by contributing to build low-cost healthcare equipment, that is quick to build, low-cost, easily available designs on Open-Source, can be built in large volumes as that seems to be the need of the hour. One of such inspiring initiative comes from a team collaborative team of Indian engineers to help the world survive and recover.
Sphinx Worldbiz Limited and TimeTooth Technologies have come together in an initiative to develop an Open Source design for building low-cost ventilators for manufacturers across the world to build them in less time and in bulk. The teams of engineers developing the ventilator bring trust, innovation, and functionality to the table owing to their professional qualifications and more importantly, years of expertise and great knowledge of the subject matter. The designs are being developed in close consultation with expert medical professionals.
It is a non-profit initiative and a social responsibility on their part. A fundraiser campaign has been launched to support the development of the design which can support hospitals in saving their patients suffering from the disease at a larger scale.
Considering India's case alone, with an overwhelming population, India has only 48,000 ventilators at present and most of them are already occupied. Also, the number of fluent breathing assistance in the existing ventilators is obscure. Experts say that India would require 80-100 times the available ventilators, grounded on an average 21-day stay on a ventilator for a coronavirus patient. The situation is indeed threatening. The statistics for other countries like the USA, Italy, Netherlands, etc. are even scarier. Hence, the need for low-cost, quick building ventilators.
The initiative to design and develop low-cost mechanical ventilators is a philanthropic effort to save many lives at a time, all over the world. The rugged low-cost ventilators are based on open-source designs released by academic and business organisations across different parts of the world. The project includes automated ventilator with physician assist controls, medical-grade, low cost (over 10-15% of the cost of traditional ICU ventilators), reliable design for practical use, and all the essential features operational in remote areas, and normal hospitals.
The pandemic is indeed distressing, but with state-of-the-art mechanical ventilators, the story can take another shift. The appeal to their fundraiser is one way everyone can be a part of this success story.
Every contribution makes a difference.
If you wish to contribute, below are the links to make donations:
For international contributors:
https://www.gofundme.com/f/covid19-india-ventilator-development-project
For Indian contributors:
https://www.ketto.org/fundraiser/Covid19-indian-MedicalGrade-Rugged-LowCost-ventilator