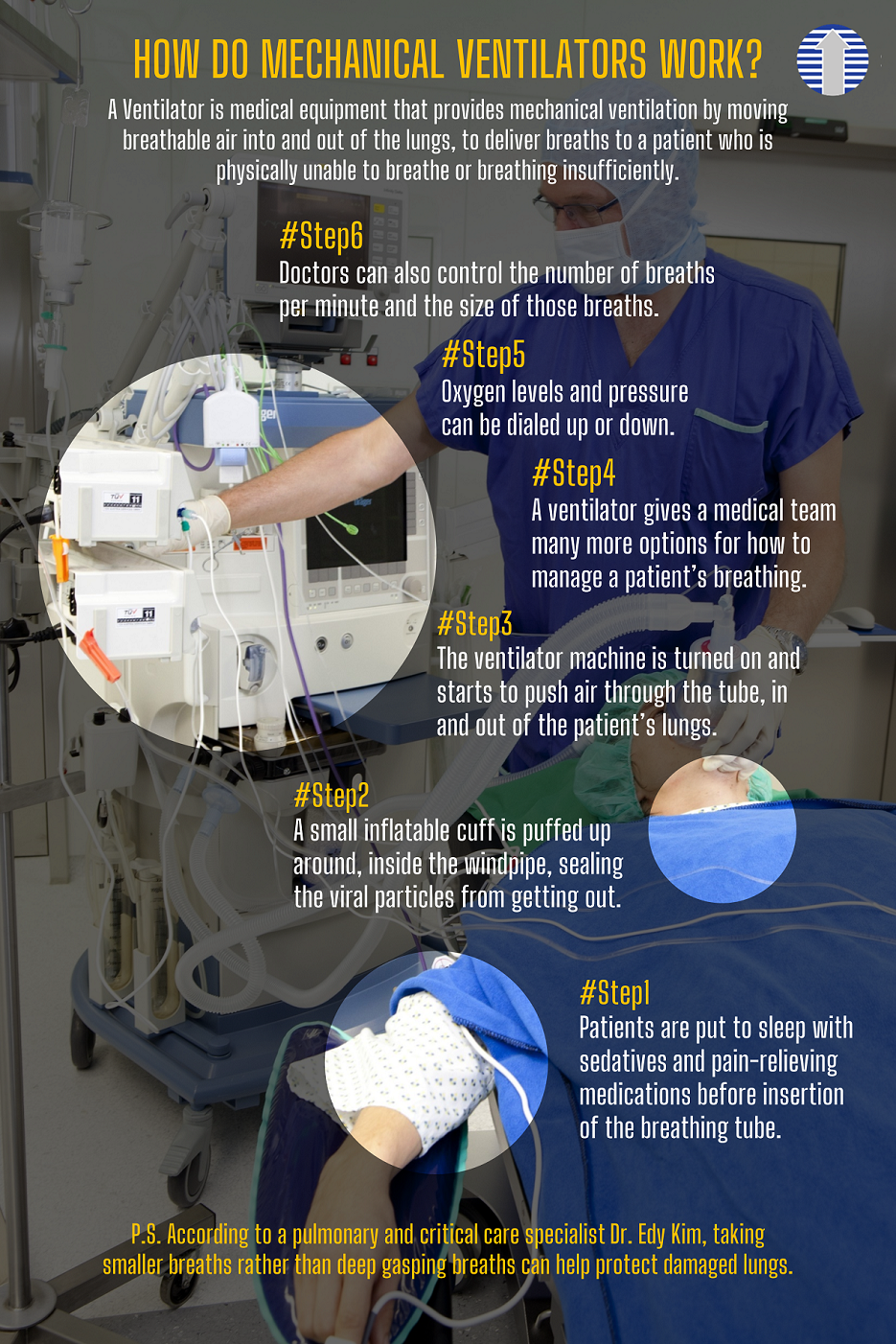 COVID-19 has severely hit the world and healthcare workers are anxious as the last resort is to keep critical patients on ventilators. Mechanical ventilator definitely isn't a cure but in this dire situation, it is functioning as a life savior for those who develop troubled breathing. However, what is less widely discussed is how the ventilator actually functions? Is it totally safe? The infographic discusses the working of a mechanical ventilator and ventilator for COVID-19 is the right choice?
There are 6 major principle steps that make ventilators completely safe for patients who have increasing respiratory failure due to COVID-19-related lung infections. Even the most critical COVID-19 patient can come off of a ventilator and recover well is monitored well. It's stunning that the percentage of COVID-19 patients who are doing well on ventilators successfully ranged from single-digit % to greater than 50%. With 24/7 care in treating the patient once placed on this coveted machine, healthcare workers make sure that the ventilator works smoothly and does no harm to the patient's respiratory system.
For now, ventilators seem to be the only way out to combat the situation. But, the global shortage of ventilators is another big problem. To fulfill the humongous demand, Sphinx Worldbiz and TimeTooth Technologies are ready to do develop a sophisticated, low-cost, yet full-featured emergency ventilator, the design for which will be made available on open-source for manufacturers to take help and build them in plenty. To facilitate the initiative, your support and contribution is appreciated.
The contributions can be made on the following links:
For international contributors:
https://www.gofundme.com/f/covid19-india-ventilator-development-project
For contributors in India:
https://www.ketto.org/fundraiser/Covid19-indian-MedicalGrade-Rugged-LowCost-ventilator