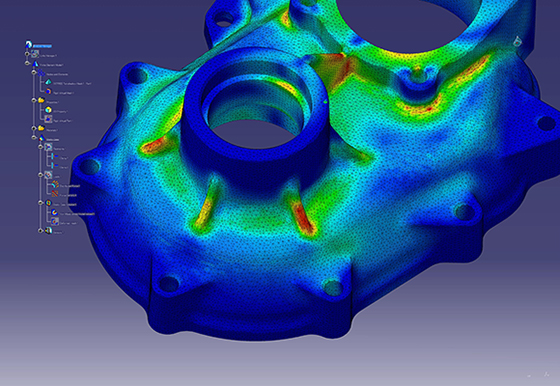 CAE engineering services include the primary use of Computer-Aided Design (CAD) software, which are usually known as CAE tools to aid in engineering analysis processes. It induces Finite Element Analysis (FEA), Multibody Dynamics (MBD), Computational Fluid Dynamics (CFD), and durability & optimization. Its potential is furthermore incorporated with Computer-aided Design (CAD) and Computer-aided Manufacturing (CAM) in the combined abbreviation "CAx".
Over the years, CAE tools have been used widely in the automotive industry. In fact, the integration of their potentials has enabled engineers to deal with product development processes faster while investing less. Be it a specific part of an entire product, CAE engineering services improves the safety, comfort, and durability of any item they produce. The predictive competence of CAE tools has progressed to such an extent where most of the design verification is now done by using computer simulations (diagnosis) instead of conventional physical prototype testing. From small components to complex appliances, heavy equipment, and plants- engineering simulation can develop a wide range of applications.
Reduced Time and Cost 
Mitsubishi Heavy Industries uses CAE engineering services for analysis in the development of gas turbines and plants that has helped them fasten the processes. While Asics shortens product development time by utilizing CAE services in producing soles for running shoes. CAE include diminished product development cost and time, with improved product quality and durability.
Higher Quality and Durability
Designs can be estimated thoroughly and further refined with better alternations using computer-aided engineering services. Unlike, physical prototype testing, CAE services ensure engineers to develop products that are of higher quality and better durability. Incorporated CAE data and process management encompass the ability to efficiently leverage performance insights and improve designs to a broader community.
Detects Problems Faster
CAE engineering services has the potential to provide performance insights earlier in the development phase than any conventional engineering methods. This helps engineers to make changes before it's too late and makes it less expensive when introduced in the market. Warranty exposure is decreased by identifying and eradicating potential problems. When amalgamated product and manufacturing development properly, CAE has the ability to detect earlier problems, which can stagnantly recede the costs associated with the product lifecycle. A flawless product also gains the trust of sponsors and clients while increasing their retention rate.
Indeed, physical testing is still a must, but the introduction of CAE technology has made the tasks of engineers a lot faster and easier. There are companies that are using this technology in many inspiring ways. Where Nissan and Osaka Prefecture University are using CAE to reduce product development time by 1/6th, Jaxa and partners are minimizing noise pollution produced by their airplanes. Increasing discoveries in the engineering vertical have provoked the demand for CAE services in India in fields like optical design and electronic design automation. Today, technology has made developing equipment and machines parts from an industrial process and understanding the dynamic behavior of different machine systems, building structures, or natural bodies a cakewalk.