Computer-aided engineering or CAE engineering services refers to the entire method of product engineering that deals with the design and virtual testing through analytical algorithms. It uses computer software that enhances product designs and takes CAD to the next level. Unlike CAD file which creates 2D and 3D product models, CAE provides a deeper product analytical knowledge. It encompasses simulation, authentication and scrutinizing of products, processes, and engineering tools while consuming less time and money. It allows processes like stress analysis, vibration analysis, structural analysis, noise, thermal distortion, fluid flow, harmonic response, linear buckling, explicit dynamics, etc.

A typical CAE process includes three major phases
Pre-processing: Using CAD software, engineers deploy the parameters like physical properties, geometry and the limitations of the object/system.
Analysis solver: Usually accomplished with the high powered systems to thoroughly evaluate CAE processes like NVH (noise, vibration, and harshness), CFD, FEA, etc.
Post-processing: Using visualization tools, engineers optimize the parameters of the product until the desired results are achieved.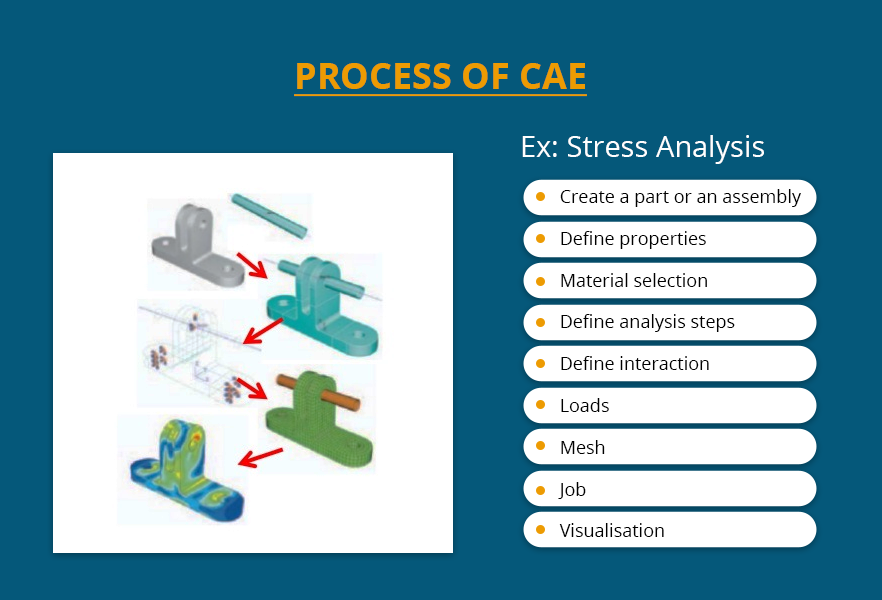 Fields of Application
Be it automotive, plant engineering, aerospace, electronics, energy, retail, or entertainment; CAE can be used in almost every industry that designs products exposed to different engineering verticals. Computer-aided engineering (CAE) is not limited to size meaning- from minuscule to large and complex products like power-plants and racing cars. This engineering method can be used for a vast range of product engineering phenomena like:
By using finite element analysis (FEA), CAE engineering services enable stress and dynamics analysis on components and assemblies.
Using computational fluid dynamics (CFD) for thermal and fluid analysis.
Acoustics analysis by FEA or a boundary element method (BEM).
Product optimization
Mechanical event simulation (MES)
Kinematics and dynamic analysis of machinery.
Benefits of CAE
The major idea behind the invention of CAE is to reduce the development cost and time with minimum resources wastage while enhancing product quality and durability. However, there are other benefits offered by the technology which are beyond resistance:
Efficient design decision-making based on the impact on performance.
Helps in managing potential risks and achieve a thorough study on the design performance implications before it's too late.
Saves time and money as designs are analysed and refined by using computer simulations instead of physical prototype testing.
Provides performance analysis and insights before initiating any development process, making it cost-efficient and less risky.
When implemented product and manufacturing development accurately together, the process can reveal earlier problems resulting in less wastage of resources and reducing the production cost.
Due to the identification and elimination of potential problems in pre-stage, warranty exposure is reduced.
Reduces design and drawing process errors and eases the manufacturing process.
Enhances product designs and easy visualization.
With the rise in computational power and complex geometries, CAE tools have become important to perform realistic simulation results to the industries that are exposed to product development. CAE engineering services in India are performed using software like Solid edge simulation, FEMAP, and NX which not only provide a seamless method to finite element analysis for both pre and post-processing, but also process linear and non-linear stress analysis, dynamic response simulation, thermal analysis, and simulation for system-level performance. Computer-aided engineering is done with the motive to bring best out of the product design while ensuring efficiency, durability and a way to save maximum resources, effort, time, and money.