The success of any product is determined in the initial phase of the product development process. The competition has encouraged service providers to adopt advanced and upgraded methods. However, 3D printing or Additive Manufacturing isn't new but as its invention dates back to 1983, but the technique hasn't lost its spark instead it's being practiced more enthusiastically across the manufacturing industry today. The user-friendly technology of Rapid Prototyping can work on different materials to create a final product like powders, plastics, and filaments; what differs is the below-enlisted techniques:
Stereolithography (SLA)
Also known as optical fabrication, photo-solidification, stereolithography apparatus or resin printing, the technique uses liquid plastic as the base material to create patterns, prototypes, models, and other production prototypes layer by layer with the help of photochemical processes. The photochemical process uses light that results in chemical monomers to merge and form polymers.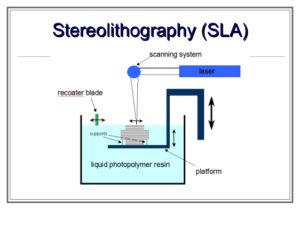 Fused Deposition Modelling (FDM)
FDM is based on the extrusion technique. Thermoplastics are the source materials to build objects by heating thermoplastic filament until it melts down while curtailing the thermoplastic layer by layer. The filament includes a heated printer extruder head and large coil through moving as the product grows. With the help of a print head, the plastic is melted into a layer that is deposited on the print bed, which later adheres. Once the first layer is created, the print bed drops another molten layer to add a new layer over it. Companies that seek an affordable alternative to develop 3D rapid prototype opt for FDM. With this technique, the development of complex products is quite possible as print head uses support material such as HIPS and PVA.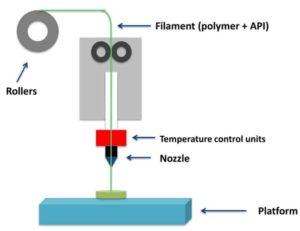 Digital Light Processing (DLP)
There is a fine line between Stereolithography and Digital Light Processing (DLP) as DLP uses a different light source and a liquid crystal display panel to create any product. Though in its nascency, the technology is giving tremendous results as an alternative to existing costly 3D printing techniques. Its main aim is the digital light projection of products with the help of micro-mirrors. The technique offers high print speed, outstanding laying accuracy, various application areas, and affordable cost of printers. Due to the utilization of mirrors, light loss is greatly receded.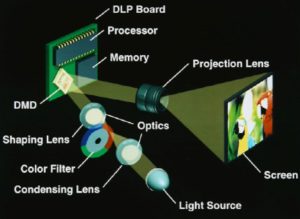 Selective Laser Sintering (SLS)
SLS is a form of powder bed fusion that makes parts on a build plate by utilizing a laser to sinter the powder media. It creates one layer at a time and can function on either metal prototypes or plastic. SLS doesn't require any support structure as all the hollow spaces are automatically filled via fresh powder. The manufacturing industry also prefers SLS due to its strong layer adhesion and isotropic mechanical properties which equalizes the tensile hardness, strength, and elongation in each direction.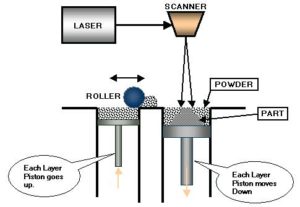 Selective Laser Melting (SLM)
SLM is another form of powder bed fusion that demands constant and careful controlled conditions. It can automatically form metal parts which are extremely dense and doesn't require any kind of adhesive. Unlike SLS, SLM provides better molding accuracy and mechanical properties. It features strong comprehensive functions, less waste of material, quicker process, time-efficient and saves direct costs. The process is suitable for such products which have a shorter life duration.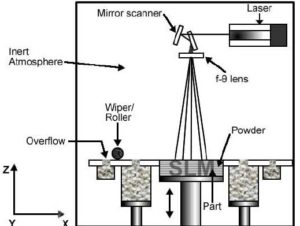 Laminated Object Manufacturing (LOM)
Developed by the California-based Helisys Inc. now known as Cubic Technologies, LOM uses heat and pressure to create product layers by using raw materials like paper, composites, ceramics, and plastic. When the layer is prepared, the prototype is carved out with a controlled blade or laser. The process is way faster, eco-friendly, and accurate to develop and produce large-scale products.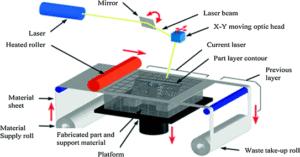 Electronic Beam Melting (EBM)
Specifically designed for metal parts, EBM was originally created by Arcam AB Inc. to use a high-power electron beam to generate the appropriate amount of energy for a high melting tendency. The technology is the same as SLM as it uses a powder bed fusion technique. The only difference is that SLM uses a high-power laser beam as its power source while EBM occupies an electron beam. Unlike SLM, EBM processes the full melting of the metal powder under high temperatures that can go up to 1000 °C.