3D printing has witnessed a surging growth over the past decade changing the industrial practice of mechanical engineering. With a myriad of new developments, usage of new technology, and applications, the industry continues to boom while becoming more consolidated than ever. Today, the technology has spread its roots in sectors like healthcare, aerospace, defense, retail, entertainment, etc. According to a survey conducted by Jabil, it was discovered that in just one year, the number of companies using 3D printing along with the variety of applications increased radically; companies using 3D printing service to manufacture production parts or tool increased from 27% to 52%, bridge manufacturing rose from 23% to 39%, and repair grew from 14% to 38%. Although, as per the report of Smithers Pira, the 3D printing industry is presently worth over USD 9.3 billion and will be worth USD 55.8 billion by 2027. But as 3D printing grows, what shape will it take across different verticals and facets of production? What does the future of additive hold? Let's find the answers.
Diversity will Continue to Take 3D Printing Up
As the number of players are diving into the market, the 3D printing industry is growing in diversity. The year 2019 has seen the biggest ever figure of 852 exhibitors representing a 35% increase from 2018. Medical professionals are using additive manufacturing (AM) to print customised prosthetics for patients, replicas of bones, organs, and blood vessels. Researchers from the University of Sydney utilised 3D printing or better perceptive of the effect of climate change on the Great Barrier Reef. While some companies are using 3D printing technologies to construct commercial complexes and homes.
Consolidating its Position in Various Industries
Many industries are considering 3D printing as a part of their internal business model while becoming more mature in the field. According to Sculpteo, 80% of companies have used 3D printing for more than 2 years while 33% expect up to a 50% increase in the investments in 2020, higher than the previous year.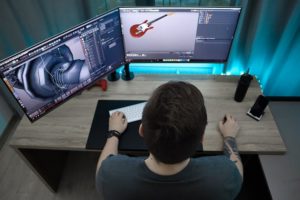 A Radical Shift from Prototyping to Product Manufacturing
Indeed, 3D printing has witnessed an upsurge, but the features of AM are still visible at the prototyping or small series stage. According to Sculpteo, 52% of the companies use 3D printing for production while 68% for prototyping. In 2020, manufacturers should educate themselves to shift the perception of production with 3D printing from only prototyping.
Eco-Friendly Initiatives
3D printing is helping engineers to utilise old or obsolete materials in new ways that are more eco-friendly. The utilisation of former waste to developing new products not only saves resources but also promotes recycling. One of its biggest examples is the conversion of carbon dioxide into the concrete using 3D printing. Moreover, some researchers are working with algae-based filaments to significantly decrease the energy necessitated for the 3D printing process.
3D printing engineers have widened their horizons in terms of industries, materials, and sustainability. The technology has the potential to democratise the manufacturing of goods, from food to medical supplies, to great coral reefs. As per the reports of the 3D Printing Trends Report 2019, the 3D printing market is going to double every three years with the annual growth predicted by analysts varying between 18.2% and 27.2%. So, could this mean that we are on the cusp of the 3D printing revolution? If yes, then what possibilities will it unravel? Time and technology usage will provide the answers.